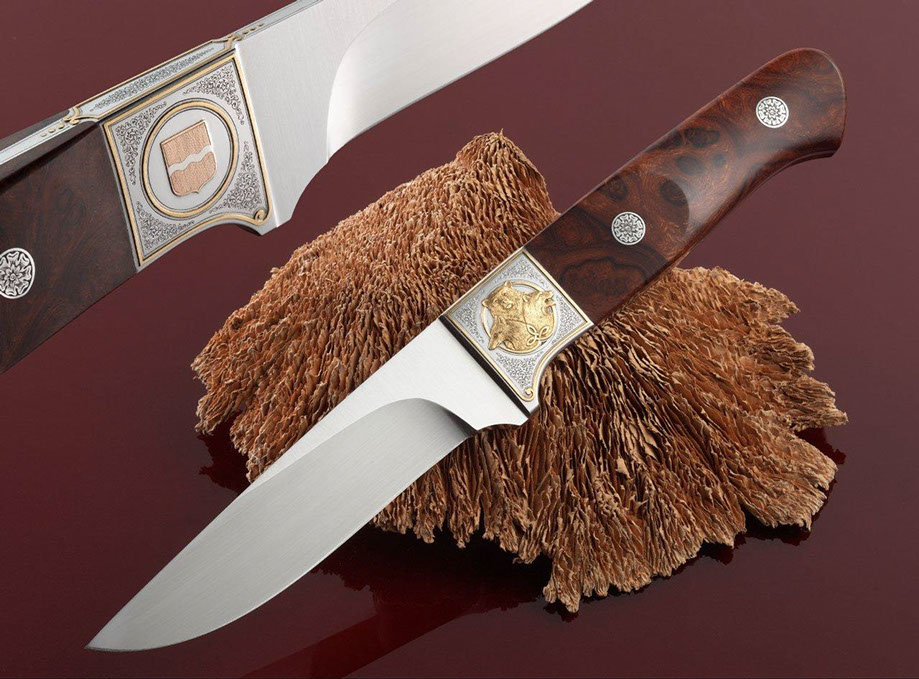 Specification: The Symbolism of Life
Model : HK-067
Steel: ATS 34
Blade Thickness: 3,7 MM
Blade Length: 107 MM
Total Length: 222 MM
Sheath: Leather handmade
Remarks: Engraved huntingknife, with three animal heads in 18 Ct Gold.
Handle material Dessert Ironwood Engraved by A. Lovenberg
The hunter of the primeval age and the modern businessman have much in common.
Like our ancestors kept on there feet by courage, ingenuity and skill, the modern businessman struggles daily with the challenges of the 20th century.
Then living successfully is still:
The parallel between nature and business world goes further.
The modern existence can well-chosen be symbolized by three wild animals, which each represent a certain stage of life:
The wolf, The bear and The fox.
- In his first active period, so between the 25th and the 40th year of age,
the modern man is a "wolf", always on the road, always seeking,
always prepared to attempt something new.
- Than comes stage two, between 40 and 55: the time of the "bear", who
consolidates what he has got, is well aware of his strength and who looks around with self-confidence.
- In the third stage of his life, after his 55th year of age, man becomes a fox.
Smart and intelligent he is living on his experience, turns away satisfied
from the heavy existence and looks curiously forward to the last period of his life.
Cutler Albert van den Heuvel and European top-engravers have designed this symbolism in an outstanding way,
into a handmade pocket-knife of world-class.
The works of van den Heuvel are sold among other things in Bondstreet, London and on Fifth Avenue, New York.
Together with top-engraver Lovenberg he belongs to an outstanding group of specialists,
which decreases very fast in our time of mass production.
The rich symbolic engraving is three-dimensional performed in 24-carat gold.
The knife can get an even more personal aspect by putting up on the opposite side your initials of family-arms in gold.
This very special pocket-knife, at the same time a beautiful ornament and solid article of use,
will be delivered in a handmade case of first class leather.
The symbolism of life.
A timeless bond between the successful businessman of today and his ancestors,
who knew how to survive when the world was still young
De jager uit de oertijd en de hedendaagse zakenman hebben veel gemeen.
Zoals onze voorouders zich door moed, vernuft en vaardigheid staande hielden in de woeste natuur,
zo bindt de moderne zakenman dagelijks de strijd aan met de uitdagingen der eenentwintigste eeuw.
Want succesvol leven is OVERleven.
De parallel tussen natuur en zakenwereld gaat verder.
Het moderne bestaan kan treffend gesymboliseerd worden door drie dieren,
die ieder een bepaalde levensfase vertegenwoordigden:
De wolf, De beer en De vos.
- In zijn eerste actieve periode, zo tussen de 25 en 40 jaar, is de moderne mens een
" WOLF " altijd op weg, altijd op zoek, altijd bereid iets nieuws te ondernemen
- Dan komt de tweede fase, tussen de 40 en 55: de tijd van de " BEER ",
die consolideert wat hij heeft, zijn kracht terdege kent,
en vol zelfvertrouwen om zich heen kijkt.
- In de derde fase van zijn leven, na het 55ste jaar, wordt de mens een " VOS "
Slim en verstandig leeft hij van zijn ervaring, keert zich voldaan af van het hectische bestaan en kijkt nieuwsgierig
uit naar de laatste periode van serieus "overleven".
Messenmaker Albert van den Heuvel en Europese topgraveurs hebben deze symboliek
op uitzonderlijke wijze vormgegeven in een handgemaakt mes van wereldklasse.
Werk van van den Heuvel wordt ondermeer verkocht in Bondstreet London
en op Fith Avenue, New York.
Samen met deze topgraveurs behoort hij tot een exclusieve groep vakmensen,
die in onze tijd van massaproductie snel slinkt.
De rijk-symbolische gravure is 3-dimensionaal uitgevoerd in 24 karaats goud.
Het mes is aan de tegenzijde voorzien van een familie wapen, waardoor het aanzien nog persoonlijker wordt.
Dit zeer bijzondere mes, een prachtig sieraad en oerdegelijk gebruiksvoorwerp tegelijk,
wordt geleverd in een handgemaakt vervaardigd etui van eersteklas leder.
De Symboliek van het leven
Een tijdloze band tussen de geslaagde zakenman van heden en zijn voorouders,
die wisten te overleven toen de wereld nog jong was.